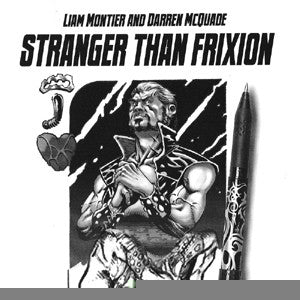 Kaymar Magic
Stranger Than Frixion eBook - Darren McQuade and Liam Montier
Darren McQuade and Liam Montier's superb booklet, features seven new ideas using a Frixion pen (as introduced to the magic world my Mathieu Bich). You can obtain a Frixion pen from most stationary stores worldwide.

"Stranger Than Frixion" is a brand-new booklet that focuses on some superb and off-beat magic using the Frixion principle in totally commercial and practical routines, as opposed to half baked Pipe Dreams that similar publications on the same topic offer.

This new book takes you through what the Frixion Principle is, how to conceal it, how to activate it and then six KILLER real world routines. These include:

Visual Voodoo – Help a spectator out by performing a visual voodoo ritual on someone that has wronged them in the past! This killer routine has appeared in Reel Magic DVD and The Wicked World of Liam Montier, and in many acts since!

Celebrity Skin – Darren McQuade's genius inspired moving hole routine where a hole punched through your business card visibly and visually restores itself in a flash of fire!

Twilight Buddies – A new method for a more personal version of Paul Harris's classic "Twilight Angels" routine that moves it away from playing cards.

TrickShot – Astonish everyone by potting all the balls on a pool table at once – on a pool table that is drawn onto a business card! This has a shocking visual and not a single sleight.

Windex – The only card trick in the book! Ever get asked if you can do "The one with the card on the other side of the window?" You can now – anywhere you are, without a window. A workers routine constructed especially for when your spectators ask about the famous Blaine performance.

Illusion Box – Perform a stage illusion in miniature when a stickman visibly vanishes from one business card to reappear on another one in the spectators hand. Commercial and practical, this is a killer, ideal for any and all types of close up performances.
---
Share this Product
---
More from this collection