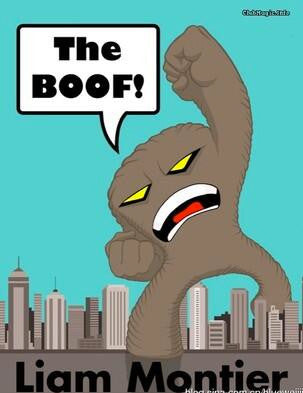 Kaymar Magic
The Boof by Liam Montier (e-book)
Receive the eBook instantly to your computer, tablet or phone as a PDF! A link will be emailed to you immediately after purchase.
"The Boof is the goods. The most fun and interesting card tricks I've seen in a long time. Nicely done." - John Bannon.

The BOOF! PDF collects together over a dozen of Liam Montier's strongest card tricks and routines to date.

If you haven't experienced Liam's card magic before, then you are in for a real treat. This is efficient, economical card magic, with few moves but ALL the impact. Why work hard when you can work smart?

"Ridiculously awesome material!" - Cameron Francis

Amongst others, learn the 'Scatter Shot' Ace Production, a perfect opener, with the Aces appearing from everywhere, and then backfiring at the end.

Psychic Blackjack will have you influencing your spectators choice of hand every time, with no forces or equivoque shenanigans.

X-Static is a visual sandwich routine that isn't like all the others. Minimal moves and maximum conviction make this 'back and forth' routine a firm favourite of Liam's.

"The Boof! contains solid, practical card work that is the Montier hallmark. Liam has a gift for stripping down handlings without losing impact. There is truly something for everyone in this latest collection. Boof boof bang bang!!!" - John Carey

Plus many more routines, none of them needing anything else other than a deck of regular cards and some basic card handling knowledge.

Kick back, relax, bust out the cards, and give your card magic some 'BOOF!'
Here are the contents: 

Scatter Shot -- A multi-phased Ace production specifically designed for an opener. The Aces literally seem to come from everywhere, right up to the mind- 
blowing finish. 

Favouritism -- A spectator nominates their lucky Jack to find two selected cards, but discovers it can do much better than that! A great 'kick back' style 
routine. 

Psychic Blackjack -- Lay out four blackjack hands, and then loan the spectator a poker chip in order to make a bet on your behalf. They have a completely free 
choice, but they always pick the hand that's best for you… 

Hard to Read -- A demonstration that appears to be all about watching for a spectators 'tell' and reading their poker face to reveal their selection, but is really 
about winning, by any means necessary! 

X-Static -- A very efficient sandwich routine that boils down to literally one move 
that does everything – great card magic has never been lazier! 

The Big Squeeze -- A simple and off-beat variation of the Hofsinzer Lost Ace Problem, where the Aces reveal the suit and value of a selection, before being 
squeezed together to produce the card! 

Equidistant Transpo -- A streamlined take on a notoriously difficult plot that sees two packets of cards transposing, despite being buried in different sections of the 
deck. And this version is (nearly) easy! 

Straight and Narrow -- What happens when you tweak the timing on the classic Jazz Aces, and then add a kicker that shows you only play it straight? BOOF happens! 

Munchies -- Everyone's favourite story style trick gets a bold but fun make over , 
and you will love performing it, even if people do question your sanity. 

King King Thing Thing -- Richard Sanders 'King Thing' is so good, it should be repeated. Immediately. Now it can be! 

Britland Twist -- The four Jacks are removed, twist repeatedly, and then suddenly 
change into four Aces. A streamlined version of a dynamite David 
Britland routine. 

Cheater -- A perfectly justified Black Jack transposition that has it all - visual 
moments, tight handling, strong effect and big boobies. 

BONUS 'TAG TEAM' SECTION! Jack Tighe and Liam Montier 

Retarded Departure -- Take a standard plot. Make it baffling, backfire, and easier to do than the original version. You will never go back! 

Collectable -- This version of Roy Walton's plot has more repeats than Xmas TV! 
(That's a lie - it just has one repeat). 

Whispersition -- A perfect blend of Scottish cardmanship. Start with Jerry Sadowitz, add lots of Roy Walton, and whack on some Dave Campbell at the end. 
---
Share this Product
---
More from this collection