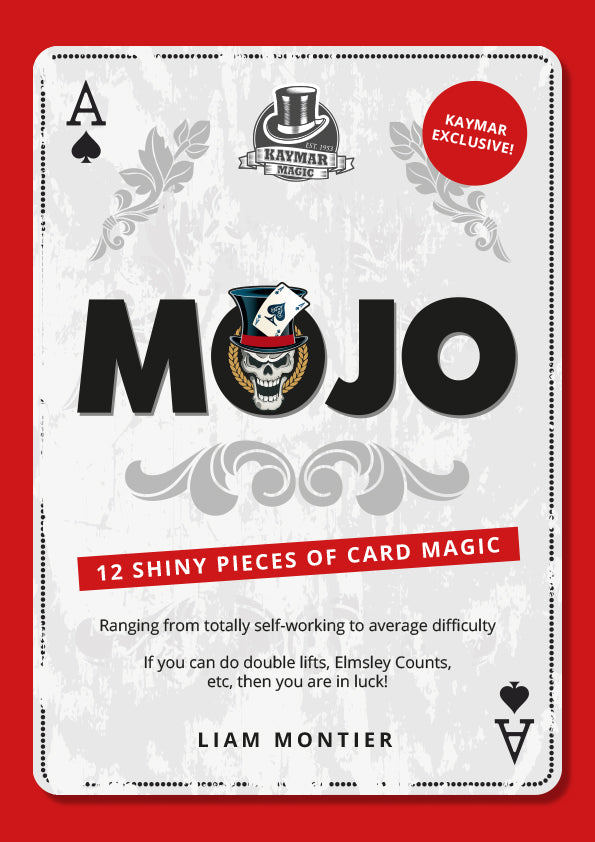 Kaymar Magic
Mojo by Liam Montier - NEW KAYMAR EXCLUSIVE!
Liam says...
Mojo is my brand new eBook that features 12 shiny new pieces of card magic, ranging from totally self-working to average difficulty.  If you can do double lifts, Elmsley Counts, etc, then you are in luck!
All of the tricks are explained with my full handling, presentation, theory, extra ideas and credits, over the course of 70 pages and a LOT of photos to make learning even easier!
Contents include...
01. Biddle Print - The Biddle Trick and the Finger Print Trick get together and have some sexy time, ending up with this crazy baby!
02.  In-Decision - Sit back and relax as two spectators reveal their OWN thought of cards!
03.  Hofferoon - Two classics combine to give the best mash-up since 'Thunderbusters' (Youtube it - it's AMAZING!)
04.  Hand Clap - A devious take on Elmsley's 'Between the Palms' with a regular deck!
05.  Selective Touch - The 'Royal Road' classic gets an overhaul, turning it from 'meh' to SHAZAM!
06.  Ink Thief - A simplified version of a Roy Walton trick where a signature is pulled from one card onto another!  Clean and easy!
07.  Baker Street - Give the moves a rest with a baffling self-worker, involving a new use for the PATEO force and a killer no-nonsense handling!
08.  Ambitious Burier - a visual shocker, perfect for your ambitious card routine (it will fit right in with the other 87 phases!)
09.  Ace Ripper - Four Kings trap three selections and then literally EXPLODE into Aces!  
10.  To The Untrained Eye - A direct and economical handling for 'Gambler Out-Gambled'.  This you won't want to miss!
11.  Twin Peeks - This simple routine has two peeks so bold, you will need to work on not giggling as you get away with them!
12.  Hoover (aka Vacuum) - The only card trick ever that sucks AND blows, but in a good way!
Grab those cards and get cracking!
---
Share this Product
---
More from this collection