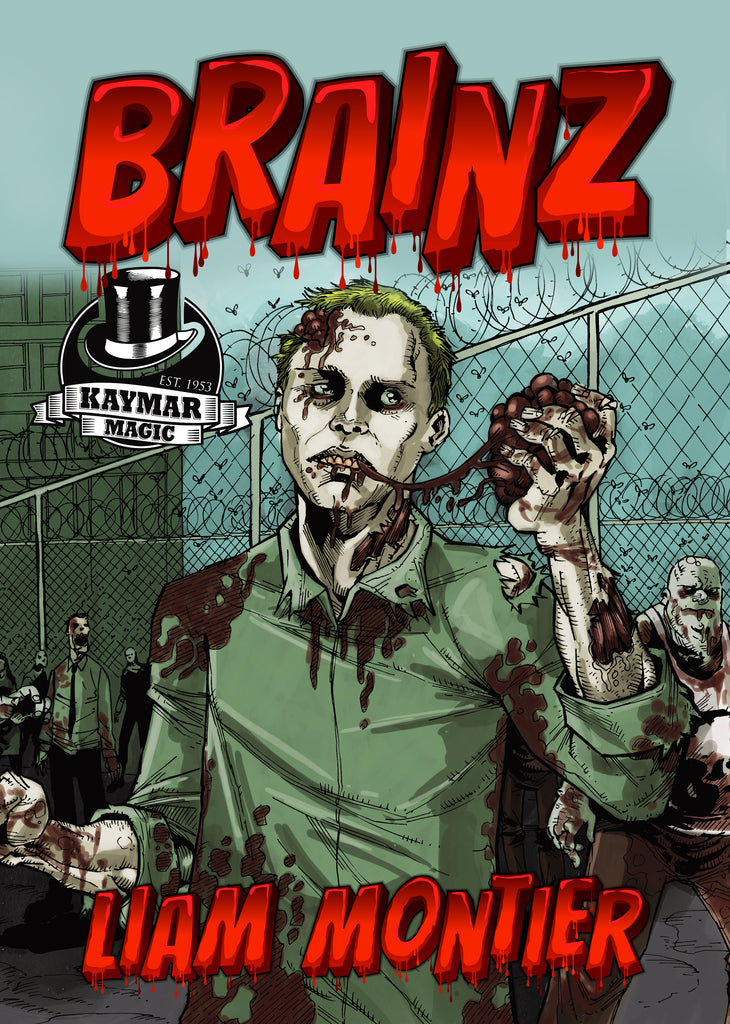 Kaymar Magic
BRAINZ eBook by Liam Montier
'BRAINZ' is a compilation of the 24 tricks from the 2019 Kaymar Magic Advent, all gathered in one collection and now illustrated with over 50 brand new photos to make learning the routines a breeze.
You will learn...
Highest Bidder - A backfire ending for the classic Biddle Trick that nobody will see coming!
Steele Yourself - One of the easiest four of a kind productions from a shuffled deck you can imagine.
Linda's Sign - A 'Stunnin' zodiac revelation and card prediction that revels your spectators lucky card, and their star sign!
It's A Trap - The Dunbury Delusion is back, this time in sandwich form, where a selection makes a most unexpected appearance - and then everything changes!
In Nick We Trost - Two predictions, placed on the table before the trick even begins, end up matching two selections - one cut to, and one just NAMED!
Got My Mojo Working - A non-card routine where some loose change ends up predicting a colour, four digit number and more!
Colour Therapy - The Ace Assembly plot gets an overhaul as the packets are sealed in different colour envelopes, and the Aces assemble into one chosen by a spectator - after they are all sealed inside!

Hamilton Hoff - A big, bold new switch powers this clever version of the Hofzinser's Ace plot, with an 'all-change' kicker!
Good Luck Charm - A predicted ACAAN that seems to miss, until you bring out your lucky poker chip.  Then the card is at the freely named number... and the number is predicted on the chip!
The Fit Up! - This is a hidden gem!  A new method for 'signed card to picture frame' with no palming, and with displays so clean, they... I don't know.  They are just SO clean!
Uppercut - A four of a kind production that has Aces swinging out of the deck!  There's only one easy move involved, and it gives three different productions!
Gift Options - A 'Just Chance' routine that works for stage or close up, where a prize in a box has every chance of becoming a spectators... well, nearly every chance.  There's one TINY loophole... and guess what happens next!
The Uninvited - 'The Signed Card' gets a complete method overhaul, and a face-down 'mystery' card, trapped between two Jokers, later turns out to be a signed selection - made AFTER the mystery card was trapped!
Adjective Impossible - a packet trick where the spectator choses not only a card, but also how good they want the trick to be - it ends up better than even they could have expected!
Cause and Effect - This is a KILLER!  You and a spectator shuffle a deck, and they freely choose any number between 1 and 52.  The deck is reassembled, they cut the pack, and deal down to their number, landing on, say, the Four of Hearts.  Before you started, you placed down one envelope, with one card inside... it's the Four of Hearts.  The deck is REGULAR.  Only ONE CARD in the envelope.  The SPECTATOR deals.  It doesn't get much fairer than that!
Reflexology - Paul Harris's 'Whack Your Pack' is a scarily named classic.  This handling bins all the consecutive double lifts, for one simple and novel move that does EVERYTHING right before the trick even starts!
Where's Rod? - A multiple selection routine where two Jokers track down two selections, Divining Rod style, and then the third one jumps up and appears smack in the middle of them!
Decoder - A super simple (in fact, self-working) version of the lie-detector, where the spectator freely chooses a card, then calls out a whole bunch of cards.  You can tell which is theirs, through the inflections in their voice.  No forces!  No moves!  Regular Deck!
Two Deck Dave - Jack Tighe contributes a dynamite double deck ACAAN where a classic self-working principle gets an overhaul.  This you will LOVE!
The Ace Place - A totally self-working routine where four spectators each reveal an Ace out of their packet, using different lucky numbers.  This is a showstopping party piece!
Easy CTB - Finally, Morley Budden (the old owner of Kaymar Magic) shared a wonderful Card to Card Box with me when I was a kid.  I still do the trick now, and it seemed fitting to end the collection with this hidden gem from Morley.
---
Share this Product
---
More from this collection