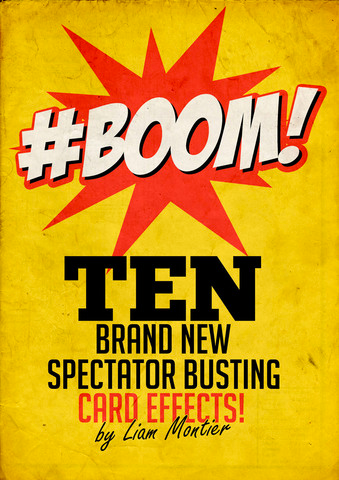 Kaymar Magic
#Boom! By Liam Montier eBook
Liam Montier returns with a brand new collection of astonishing tricks, all done with a regular deck and basic card magic knowledge.
10 Tricks.  50 Pages.  Lots of Photos.  Even more AWESOME!
Receive the eBook instantly to your computer, tablet or phone as a PDF! A link will be emailed to you immediately after purchase.
 Hi-Jack! - A goofy prediction turns into a deadly one-two punch of visual changes!
Peach! - Check out this brand new take on the classic 'Princess Card Trick', that ends with you revealing the actual thought of card, and then changing all the others to Aces!
Chip-Shot! - A reworked multi-phase Daley's Last Transposition routine, routined as a 'follow the leader' and wrapped up in a gambling presentation, featuring a top secret handling for the final phase by the LEGEND that is John Bannon!
Decoy! - Demonstrate your astonishing sleight of hand abilities by sneaking three cards right out from under a spectators palm! Under their hand afterwards, they still find three cards - but they are just decoys!
Catch! - A cool, clean and efficient four Ace production that has it all. Sandwiches, transpositions and a shocking new visual take on John Bannon's neo-classic 'Fat City' routine.
Between The Lines - A multi-phase gag routine turns into astonishment as firstly, you impossibly name a selected card from some 'comedy' indicator cards. Then the indicators change into the mates of the selection! Then the signed selection manages to turn up in the most unexpected of all places!
Collectables - Roy Walton's classic 'Collectors' routine gets an over-haul. This simple version relies on a subtle discrepancy to achieve all the heavy lifting, and it's about as cheeky as you can get!
Pocketful - A collaboration with Jack Tighe, and routined by Liam into a near self working masterpiece with NO controls. You and your spectator both choose cards, which are fairly returned to the centre of the deck. You pluck yours from the case while it is in your pocket, and your spectator - well, they outdo you in an incredible fashion - with no idea how they did it!
Ninja! - Demonstrate incredible sleight of hand ability as you repeatedly toss and throw a selected card into the deck, at JUST the right place, again and again! This three phase routine works from a shuffled deck, builds, and will become a favourite!
Dissolves! - A chosen card is FAIRLY returned to the centre of the deck, and then two Jokers mysteriously vanish from the table top, one at a time. They turn up reversed in the centre, with a single card between them! Astonishing construction makes this an amazing routine!
---
Share this Product
---
More from this collection